Noctua Shows New CPU Coolers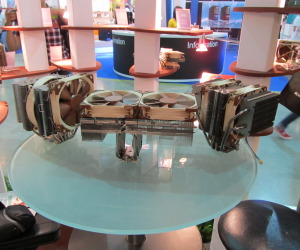 Austrian cooling specialist Noctua has several new CPU coolers on show at its stand at the Computex trade show in Taiwan this week.
None of these coolers have been given names yet, but they're already shaping up very nicely indeed. The most conventional-looking of these (left in the photo) is a variant of the existing NH-D14, but has an added bank of 25 fins on either end of the main set of fins.
They are mounted slightly off-set, with the main set of fins to increase air resistance and thus the transfer of heat as air moves through the cooler. The off-set design also means there is room to install memory DIMMs of up to 60mm in height underneath the heatsink.
In the centre of the photo above is the largest of the new coolers and a real departure from most of Noctua's current line up of coolers. This is because its two 120mm fans are positioned to blow air down onto the motherboard, helping out with RAM and VRM cooling. With seven 6mm heatpipes and a staggering 20 per cent more surface area than the current NH-D14, this new flat bed truck CPU cooler should provide excellent cooling.
Finally, on the far right of the photo you can glimpse another weird looking tower cooler. Nicknamed the 'triple stack cooler', it has eight 6mm heatpipes that feed into three sets of fins, with space for a pair of 120mm or 140mm fans in between. It's fins have 20 per cent more surface area than the current NH-D14 and its possible to fit DIMMs up to 70mm tall underneath them.
original content by bit-tech.net
Related Articles
Comments and Discussion