Annual Toshiba Refresh Brings Llano…and Some Style
The regular refreshes that come from notebook vendors aren't often the stuff of exciting news. It's generally a processor update, maybe a slight change in shell design. With Toshiba's 2011 refresh that's not entirely untrue, but this year they've timed their update to coincide with the launch of AMD's Llano APU and NVIDIA's launch of the GeForce GTX 560M. Their Fusion finish is also getting a much needed update along with the top-of-the-line Qosmio. Bottom line: there's a lot going on at Toshiba.
Toshiba's Satellite is broken down into three different lines: the budget-minded C-series, the mainstream L-series, and the performance-oriented P-series. Starting from the bottom, we have the C-series, which launched earlier this year and currently offers AMD's Zacate processors, from the C-50 up to the E-350. The only major update here is that Toshiba will now be shipping a 17.3" model, putting a large desktop replacement notebook in the reach of more budget-oriented consumers. These start at $379.99, and the Toshiba rep noted that the 17.3" C-series model would be around $499. Yes, Brazos in a 17.3" notebook.
When you bump up to the L series, you get access to Sandy Bridge, but now there's also Llano. Sandy Bridge-based Intel Core i3 and i5 processors will be available, with AMD-based models now sporting A4 and A6 dual- and quad-core processors. Notebooks will range from 13.3" up to 17.3".
The updated Fusion finish remains one of glossy plastic's last strongholds in retail, but the textured appearance makes it far less liable to pick up fingerprints and all the usual mess that comes with gloss; unfortunately Toshiba is still sticking with the glossy keyboard. Finally, the line will come with USB charging, a wide variety of colors (including a very attractive brushed aluminum blue as an alternative to the gloss), and in some configurations a Blu-ray drive. The 14" L745 series starts at $449.99, the 15.6" L755 series starts at $483.99, and the 17.3" L775 series starts at $579.99.
UPDATE: Toshiba let us know the 13" L735 will only be available with Intel processors. It's a shame; that form factor seems like a great place for Llano.
The P700 line may seem the most compelling, though. While these still sport the Fusion X2 finish, it's been toned down and the keyboard has been replaced by the slightly glossy island-style found on the Portege and the new Tecra lines. That keyboard is still a little bit problematic, but it's a major improvement on the older glossy flat keys. In addition, Toshiba implements Waves Audio and USB 3.0 along with USB charging across the entire line, and these notebooks will feature Sandy Bridge processors all the way up to i7 along with AMD's A6-3400M. Some configurations will also include WiMax, Blu-ray, and even NVIDIA GeForce GT 540M graphics with Optimus. The 14" P745 starts at $699.99, the 15.6" P755 starts at $629.99, the 17.3" P775 starts at $629.99, and if you want to make the jump to 3D there'll be a 17.3" P775 3D model at $1,199.99 that includes a 120Hz screen and active shutter glasses.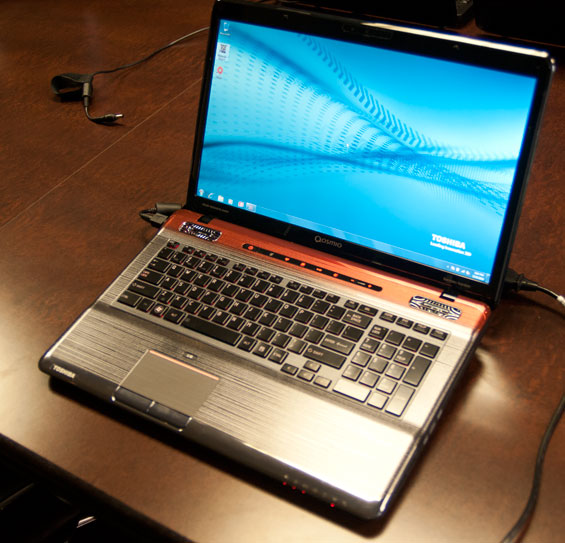 Last but not least is the new Qosmio X770. If you're like me you probably thought last generation's Qosmio was ostentatious at best, bulky and gaudy at worst. The X770 has had a major facelift and it's a real improvement. Red remains the signature color for the sleeker, slimmer new Qosmio but honestly, the red backlighting behind the keyboard looks downright evil, which may or may not be your cup of tea (it's mine). The 17.3" X770 comes equipped with a Core i5 or i7, a GeForce GTX 560M standard, and up to a 1080p screen. It starts at $1,199.99, but peaks with the X775 3D which comes equipped with a 120Hz screen and active shutter glasses at $1,899.99.
All of these notebooks are expected to become available by the end of the month, and we're planning on getting one of the new Qosmios in hand as soon as possible.
original content by anandtech.com
Related Articles
Comments and Discussion