Intel unveils 50-core maths co-processor card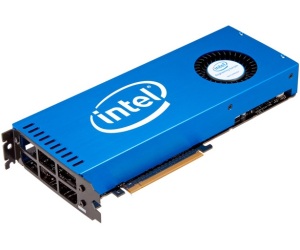 Intel officially took the wraps off its next generation 'Knights Corner' processor last night; a dedicated 50-core maths co-processor chip based on the technology from Intel's abandoned Larrabee graphics project.

Intel confirmed that the 50 x86 cores used in Knights Corner will be fabricated using the same 22nm Tri-Gate process as next year's Ivy Bridge processors, meaning the processors will use the very latest transistor technology.

Intel also explained that Knights Corner is only the first product in what will eventually be a range of Many Integrated Core (MIC) processors. Indeed, another iteration of the MIC family - dubbed Knights Ferry - is already being trialled at several supercomputing laboratories across the globe.

The processors will also be packaged on a traditional 16x PCI-E card, so they'll potentially provide an easy upgrade for any workstation that requires a little extra processing grunt.

Intel understandably envisages the MIC processors competing directly with current co-processor technologies; most notably Nvidia's range Tesla products, which are currently based on the company's Fermi GPU architecture.

Intel believes it has the edge in this battle, however, as it says it will be easy for people to use their existing tools when programming for its x86-based MIC processors.

'If you can program a Xeon, you can program this microprocessor,' says the general manager of Intel's Many Integrated Core Computing division, Anthony Neal-Graves. 'You can use the same tools and the same compilers. That makes parallelism simpler for the end user. It provides a saving in terms of time and money, and allows programmers to be much more efficient in terms of what they do.'

Would a super-powerful maths co-processor improve your working life? Could Knights Corner threaten GPGPU computing? Let us know your thoughts in the forums.
original content by bit-tech.net
Related Articles
Comments and Discussion